Now This Is Just Stupid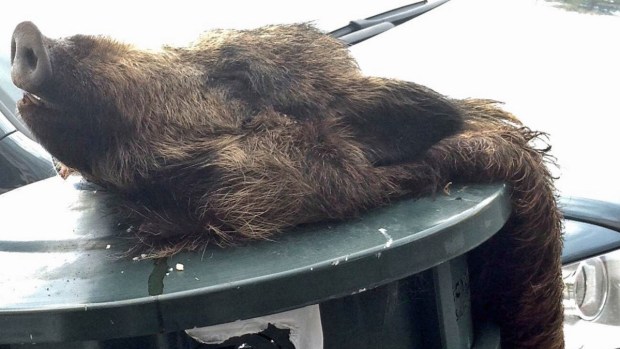 Moronic might be a better word.
From The San Francisco Chronicle:
Two grisly sightings of the head and skin of a dead wild boar dumped near a pair of vegetarian restaurants in Berkeley are raising questions about how the remains came to be there and what, if any, message was intended.
So someone left a "message"?  Here's the message I get.  "Hi!  I'm a moronic asshole who really thought it would a.) be funny or b.) make a profound statement by leaving my hog carcasses on the street to freak out the vegans."
If the cops are looking for links, they should probably start by linking this to alcohol consumption.  It's a factually baseless assumption on my part, of course, but no matter how I piece this together in my mind, it involves the line, "here, hold my beer."
I mean, look, I get it.
It's "Berserkely," California.
There are vegans there.
Somewhere in that mix are some people who will probably have a strong, adverse reaction to the sight of a bloody, dismembered carcass right out in the street… especially in such close proximity to vegan restaurants.  Whatever idiot(s) did this probably imagined no end of hilarity at these reactions, even though it's highly unlikely that the perpetrator(s) had the cojones to stick around and watch.
As far as reactions go, by the way, I also expect there's at least one person there who probably thought that cape would make a kick-ass costume for next year's Burning Man. 
In the big picture of the modern world, this isn't that big a deal.  It's just stupid.